Meet The Family Behind Harestone
from Mrs Harestone (Laura).
We are so happy that you have found us, and you will love our rewilding land & boutique accommodation as much as we do !
We are the Drummonds – Gavin, Laura, Jamie & Rebel + all the farm animals of course! Our home is a 70-acre croft that we are slowly rewilding, we love nature and wanted to give something back.
We have been dreaming and planning our retreat for a long time.
In 2021 we began making it a reality, and like others, the pandemic focussed our thoughts and made us more aware of what is important, and it was time to slow life down a little and appreciate that time is precious …
We wanted and needed to make a change to get our life more in balance. To move away from daily grind and be different!
From the sketches on scrappy bits of paper, they were made real, but what a journey….
We now want to share the outstanding beauty of our land, connect you to nature, and give you the experience of luxury and escapism you desire.
We are innovators (well Gavin really) and have a belief that you can create amazing from repurposed/ up-cycled items. We are excited to share our vision, while having minimal impact on the natural surroundings.Wait and see what we do with the plastic waste products – we will leave this as a surprise!
All our 5-star boutique accommodation are made/converted from items that have had a very different prior use. You will be stunned by the underground houses, tree-house with your very own glacier boulder, luxury silos and grass roofed cabins.
We have begun the slow process of  rewilding Harestone. We have joined forces with ScotlandThe Big Picture and are now putting in place our rewilding plans.
• Create ponds & wetlands
• Create hedgerows
• Natural grazing
• Woodland creation
• Encourage wildlife
• Wildflower meadows
Our vision is to part of a vast rewilding network in Scotland and make a difference.
If you would like to find out more about our rewilding journey and the projects we are currently working on please click below
We have all worked as a wonderful team, with Gavin developing the land and building the accommodations and I have been focussing on the business elements, research & marketing.
To be fair, I got the cosier role as I watched Gavin out in all weathers!
Jamie's vital role was showing us the best spots with his hideaway building knowledge over the years. If fact, he had 2 vital roles – chief tea/biscuit maker to keep us going was his other major contribution.
As we have both worked in the oil and gas sector for most of our careers (Aberdeen is the oil capital of Europe), our aim was to utilise redundant oil field equipment to create amazing, sustainable accommodation. You will be amazed when you see the before/after pictures. There are many other examples of his skills on the land like the wind turbine made from an electric forklift, bio-digesters and wind driven pumps!
Nothing goes to waste here, neither does our time. We have spent every evening and weekend taking small steps forward, and although it has been hard, we always believed we would get there.
History of Harestone Moss
The land was originally a peat bog left over from the woodland that completely covered the landscape many years ago, like a substantial portion of Scotland. In the spring, when the land dried out the buried stones would appear to rise from the ground and look like hares (hence the name- Hare-stone Moss).
Steeped in history and past conflicts right up to World War two where the land was used as a dummy runway. This was due to its proximity to the actual airport (5 miles away). Dummy runway lights were setup to mimic a runway and turning aircraft(very clever) …. and it worked! The land was bombed on a number of occasions and three bomb craters are still visible on the farm. The real airport remained intact through the war, due to Harestone Moss and the sacrifices of the last occupants, who moved out at the start of the conflict.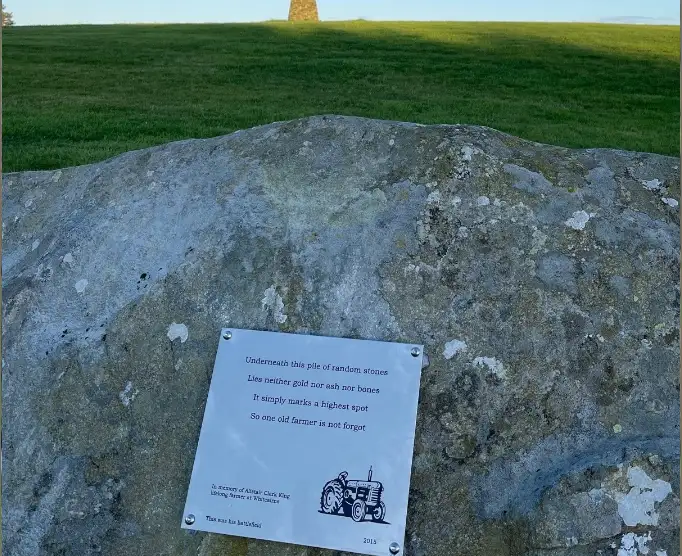 Alistair King farmed the land for generations, with his herds of cows and sheep. Gavin built a stone cairn in Alistair's memory and the cottage is named after him. His mill house will used as a converted accommodation, and I am sure he would be happy (and surprised).
The next phase of the land is for it to be seen, enjoyed, and help it create memories. We look forward to welcoming and meeting you and will do everything make your stay perfect.
Expect a warm Scottish welcome and we hope you love it, and feel the benefits as much as we do