Old Aberdeen is one of the oldest parts of the city and was originally an independent town. It is packed full of interesting buildings, museums , pubs , coffee shops, parks and gardens. It manages to retain its charm as a village, even though it is surrounded by the city.  
Meandre through the quaint cobbled streets of Aberdeen's hidden gem, and step back in time and admire the architetcure and laid back vibe of the area.


Little bit of History
The history of this area has long roots, nearby there have been many finds dating from 4000BC and earlier, while Tillydrone Motte in Seaton Park has prehistoric origins.
Old Aberdeen can be divided into three reasonably distinct areas. The oldest is the area around St Machar's Cathedral, known as the Chanonry, which developed with the Cathedral from the 12-13th centuries.
From 1489 Old Aberdeen became a Burgh of Barony, by grant of a charter from James IV, after which the merchant area around the Town House developed.
The third area, the academic, developed after the foundation of King's College. Here, some of the city's most celebrated thinkers – scientists, philosophers, writers, and inventors – lived, studied, and taught.
It's impossible not to sense the power of learning as you wander through the narrow medieval streets, with impressive architectural creations surrounding you.
St Machar's Catherdral
St Machar's is the oldest building in Aberdeen still in use, and it stands on a high bank above the River Don, within a conservation area.
The 15th century catherdral has massive twin spires, a world-famous heraldic ceiling and glorious stained glass is one of Scotland's 'must see' treasures. It is surrounded by a graveyard which contains tombs that date back to the fifteenth century.
With its superb acoustic, the cathedral is a popular venue for musical performances. 
It is open 365 days a year for formal worship and for those seeking a place of quiet contemplation, as well as for visitors


Kings College
King's College was built to house the University, which was founded by Bishop Elphinstone under a Papal Bull issued by Pope Alexander VI on 10 February 1495.
King's College is now part of the Old Aberdeen campus and its rear is still used as a sports pavilion, while it remains the symbolic centre of the ever-growing University campus. It still has an important educational purpose with Divinity/Theology, Art History and Religious Studies all taught here.


Cruickshank Botanic Garden
The Cruickshank Botanic Garden is situated on the King's College campus of the University of Aberdeen, and is a partnership between the University and the Cruickshank Charitable Trust.
This beautiful and peaceful 11 acre Garden offers year round interest to visitors. It has shrub borders, a rock and water garden, sunken garden, rose garden, herbaceous border and an arboretum, and houses a nationally important collection of over 2500 labelled plants.
Seaton Park
This is one of Aberdeen hidden gem gardens and offer so much to the visitor.
The riverside park offers many fine areas from the flowerbeds, to rose beds and up to the walled garden beside the old stables. The Cathedral Walk is always a marvellous sight in midsummer.
There is also a popular children's play area and large grassy areas popular with sporting groups.
Kayaking is held on the river next to Seaton Park during the summer months The Aberdeen Kayak Club has an equipment store at the park, they hire out equipment and offer taster sessions for those who have not used a kayak before.
Brig o' Balbownie
Local legend suggests that this bridge was started by Bishop Henry Cheyne in the late 13th or early 14th century and completed by Robert the Bruce. Whilst this may or may not be true, historical documents show that the bridge we see today was the result of rebuilding work in three phases in the early 17th century.
It is situated over a deep pool known as the Black Neuk. It has attracted much interest from various sources and features in Lord Byron (1788 – 1824)'s poem, Don Juan


Old Aberdeen Distance from Harestone Moss
14 minutes

St Machar Catherdral Entry Price
Free to enter 365 days a year & guided tours available
Gift shop onsite
St Machar Catherdral Opening
10.00 – 16.00

Visit Website
https://hiddenscotland.co/listings/old-town-aberdeen/
Stay with Us & Experience these Adventures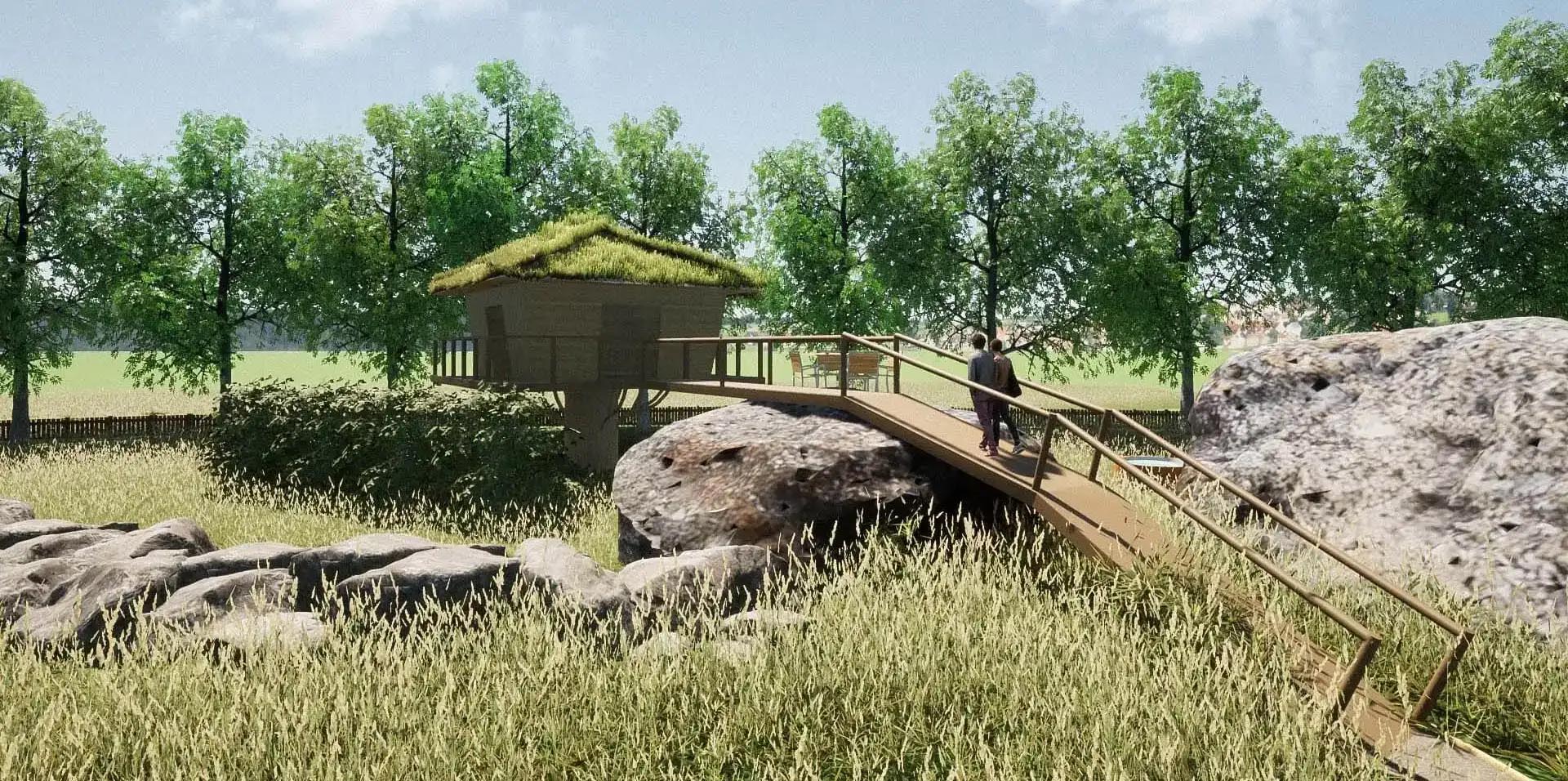 Do you want to be the first guests to stay in our boutique outdoor retreat ?
Luxury Treehouses
Converted Silo's
Grass Roofed Cabins
Unique Underground Burrow Houses
All with hot tubs / outdoor baths & much more.