You will be spoilt for choice walking Aberdeenshire. It literally has it all !
From sunset strolls along Aberdeen's city beach, to circuits of the highest peaks in the UK.
The variety of landscapes and levels of intensity at various destinations means there is something for everyone to enjoy and explore.
During the summer solstice, Aberdeenshire can have as many as 18 hours of daylight and the rest twilight hours, never going fully dark! Plenty of time for an adventure
Moderate to Low level Walks
Formartine & Buchan Way (5 Mins Harestone)
The Formartine and Buchan Way has been designated as one of Scotland's Great Trails. It is an impressive, safe pathway suitable for all abilities of walkers, cyclists and horse-riders.
The pathway uses the former railway line linking Dyce, on the edge of Aberdeen, to the village of Maud, where it splits into two routes: eastwards to Peterhead and northwards to Fraserburgh.

The route is 53 miles in length, is entirely off road and relatively flat, however it passes through such a varied and interesting landscape that the outlook is constantly changing and the journey never boring.
The Deeside Way (25 mins Harestone)
This is a 41-mile route running from the centre of Aberdeen to Ballater in the Cairngorms National Park and is suitable for walkers and cyclists.
Along the way there are many opportunities to see remains of the old railway infrastructure as well as stunning views over the River Dee with the Cairngorm Mountains as a backdrop.

Most of the route is off road with gradual gradients making for easy going
Enjoy the changing landscape from Sea to Mountain. I spent my childhood & adulthood enjoying this beautiful walk.
Coastal Paths
The coastline of Northeast Scotland is unspoiled with a host of sandy beaches, cliffs, inlets, coves and bays to explore. The most inaccessible points are topped by castles and lighthouses. The arches, caves and cliff walls form perfect bird sanctuaries and dolphin watching spots.
Balmedie Beach to Newburgh Beach (7 mins Harestone)
This beautiful walk along the pristine sands is 6.7 miles and as you walk further away from the start of the route you will have the beach to yourself!
Enjoy the seals as a reward at the end of the walk, don't forget the camera.

Cruden Bay to Bullars of Buchan (25 mins Harestone)
This dramatic coastal walk passes the impressive ruins of Slains Castle, the inspiration for Dracula, before reaching the Bullers of Buchan, where there is a massive blow hole with several natural arches. It is 4.5km and is a rough coastal path with unprotected cliff edges.
With both routes, if you do not want to walk back to your starting point, you can get the bus!
St Cyrus Beach and Cliffs Circular (50 mins Harestone)

This visually stunning coastal landscape is 6.7km in length and is mostly smooth paths, but if you want to see the waterfall you need to scramble over some low rocks.
This walk explores the incredibly special natural environment that makes up the St Cyrus Nature Reserve. The Reserve is a protective space for many species of birds (resident and migratory), butterflies and moths, and grasses and flowers
Moderate Walks
Bag a Munro?
The Munro's are the 282 Scottish mountains with a summit of at least 3,000ft (914m). Those who walk them are called Munro baggers.
Mount Keen (1 hrs 20 mins Harestone)
It is possible to mountain bike much of this Munro as well as walk it, its located south of Ballater. With a 2,250ft of the ascent over 10 miles. Mount Keen is the most easterly Munro in Scotland
The easiest approach is from the end of the public road in Glen Esk and up through Glen Mark. Fine tracks pass the 'Queen's Well' and lead up to over 650m, from where an excellent path is followed to Mount Keen's summit.
Forest of Birse Circuit (1 hr Harestone)
This upland walk in an enchanting valley surrounded by high hills. There are good views throughout the route, with a fine view of Birse Castle. However, this walk won't suit everyone due to the fords to be crossed, and the consequent possible wet feet factor.
River Dee and Cambus O'May Circular (1 hr Harestone)
This enjoyable way marked circuit heads down Deeside to explore the strath to the east of Ballater. The highlight of the walk is the beautiful suspension footbridge at Camus o'May.
This route is 12.74km in length and ascents 120 metres, leaving from Ballater
Harder Routes
Some of the harder routes are in some of the highest areas of the Eastern Cairngorms and may take as long as 10 hours to complete. I have not included these on the list below however !
Millstone Hill- Heather Brig- Bennachie Forest Loop (40 mins Harestone)
This is a long walk at 12 km, with almost 500 m of overall ascent. However, the slopes encountered are generally gradual in nature. The final approach to the 409 m summit area, where there is a stone cairn, surrounded by wind-blown heather moorland. The going here is steep, but you are rewarded with fantastic panoramic views.
Lochnagar Hiking (1 hr 30mins Harestone)
Found on the Balmoral Estate it is one of the most popular Munros in Scotland with walkers, climbers and mountaineers. It was immortalised in verse by Lord Byron.
The starting point is Loch Muick close to Ballater. Walking for some of the way is on fine paths, but be prepared for rough terrain heading up Lochnagar and have your navigational wits about you when the mist is down.
Avoid doing this route in an anti-clockwise direction when a strong north-easterly is blowing as fighting against the wind funnelling up from Loch Muick is not fun.
The route is 28k and the ascent 1349 metres
There are so many different walks and hiking to choose from. Visit Aberdeen has done an excellent job in categorising them so you will never be stuck for a good walk!
Stay with Us & Experience these Adventures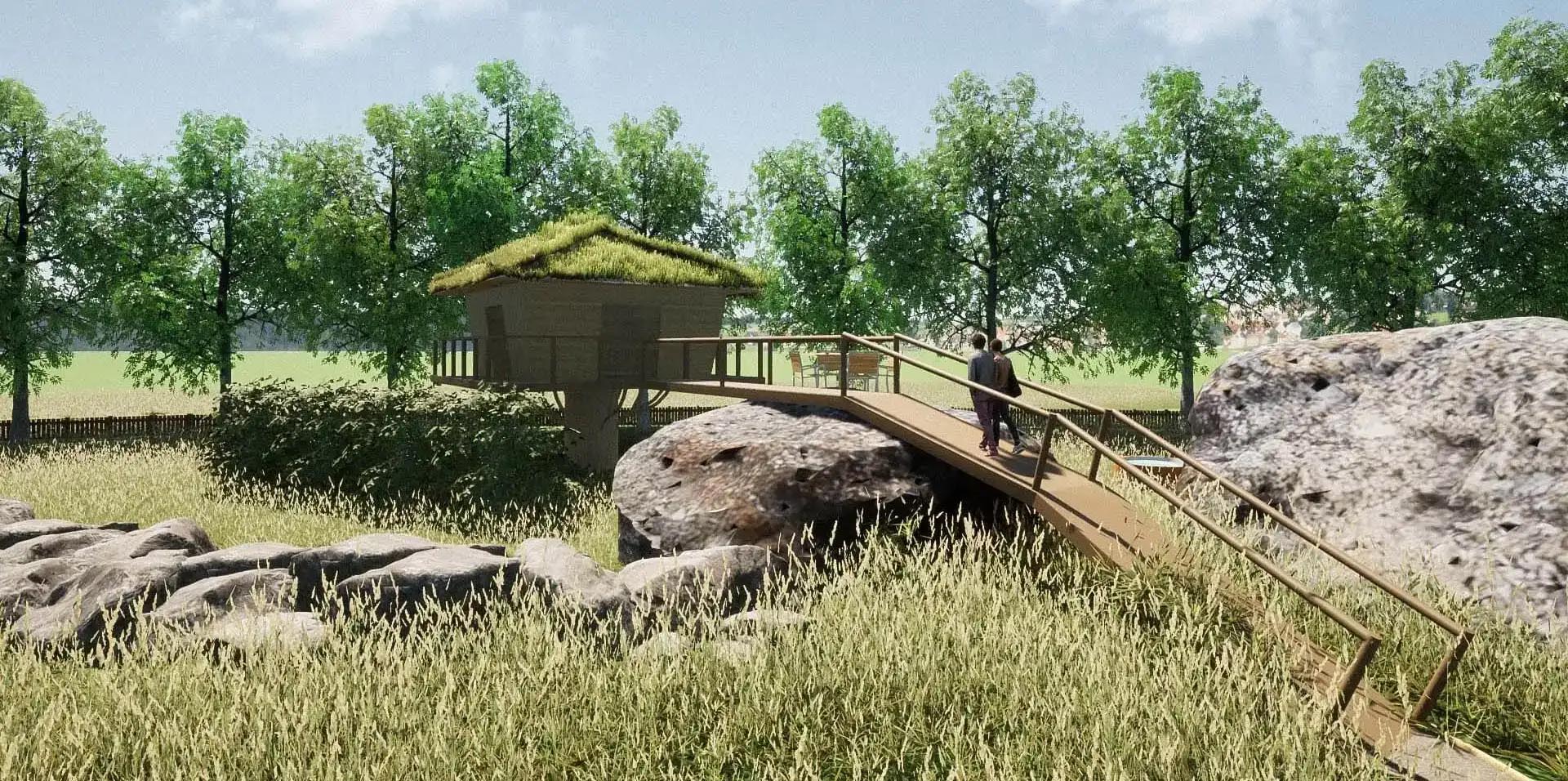 Do you want to be the first guests to stay in our boutique outdoor retreat ?
Luxury Treehouses
Converted Silo's
Grass Roofed Cabins
Unique Underground Burrow Houses
All with hot tubs / outdoor baths & much more