No trip to Scotland is complete without a tour of a Scottish whisky distillery, and Aberdeenshire has some of the best small distilleries on offer.
We are blessed with iconic whisky blends that are loved throughout the world with each having its own story, flavour, smell and strength.
The region is also a hot-spot for upcoming whisky brands thanks to its location to quality local ingredients – toasted barley, clear mountain water and smoky peats from heath and moors
Whisky Galore (2017) was even filmed in Aberdeenshire taking advantage of the stunning seaside towns of Portsoy and Pennan.
Glen Garioch Distillery (20 minutes Harestone)
The most easterly distillery in Scotland & one of the oldest operating distilleries, founded in 1797.
It only ever produces small, precious batches and is a hearty Highland malt.
The whisky is made in the same way today as it has always been and you can visit & see the time honour skills yourself, sampling the creamy textured whisky and taking home a lovely bottle from the distillery shop,
Their Highland malt comes in a range of vintages, and with an eventful history, this will certainly be an interesting distillery tour.
Tours
Founders Tour- £15 for 1 hour
Where you can discover beating heart of the distillery and the 225 hears craftmanship that goes into every bottle . The tour includes 2 drams
Rare Pair – £50 for 1 hour
This whisky and cheese experience brings out the complex flavours of the whisky that the Scottish cheeses bring out
Behind closed doors – £250 for 2 hours
What better way to fully immerse yourself in the history and character of our distillery then by exploring behind the scenes after the gates are closed.
Royal Lochnagar Distillery (1 hour 30 minutes from Harestone)
Royal Lochnagar Distillery is situated just one mile from Balmoral Castle and sits at the foot of the Cairngorm mountains. Royal Lochnagar is the perfect place to discover how Scotch Whisky is made. You can watch the operators tend to the traditional mashtun, copper stills and pouring the casks.
Founded in 1845 it was a favourite of Queen Victoria, originally called New Lochnagar, it was renamed following the royal visit.
Royal Lochnagar combines malted barley and the pure water of the nearby crystal clear Scarnock springs to create a golden and delicious Highland Single Malt Scotch Whisky.
There is visitor centre ,shop and a variety of tours available where you can sample the delights of this famous distillery.
Tours
Royal Lochnagar Expressions – £20 (1 Hour)
An introduction to making whisky at Royal Lochnagar, including tour of the Distillery, Filling Store and Warehouse. Followed by a tutored tasting 12 year old, Distillery Exclusive Bottling, Selected Reserve and 175th Anniversary Bottling.
Whisky & Chocolate- £30 (1 Hour)
This is an opportunity to pair hand crafted local chocolate with our Royal Lochnagar whisky. Along with the Braemar chocolate shop they have created the perfect chocolate pairing which enhances the flavours of our 5 expressions.
Royal Lochnagar Warehouse Tasting- £40 (1 Hour)
Enjoy a tutored tasting of four whiskies, each specially selected from our collection of casks in the Duty Paid Warehouse at Royal Lochnagar Distillery.
The distillery Operators and Guides have selected their favourite casks, not just for their exquisite flavour – but for their fascinating stories and rarity.
This truly unique experience is not to be missed!
The GlenDronach Distillery
Nestled in the valley of Forgue, deep in the East Highland hills, is The GlenDronach, one of the oldest distilleries in Scotland, creating the finest richly sherried single malts for nearly 200 years.
The GlenDronach is of true Highland style: a heavy and robust spirit, perfect for a long maturation period in sherry casks.
Originally, all of the workers at GlenDronach lived on site, including the distillery manager, staff, excise man, brewer and all of their families.
To this day many of the old houses still remain.
Tours
The Classic – £20 (45 minutes) 3 drams
Enjoy a tutored tasting of The GlenDronach, exploring the perfect harmony, complexity and texture of sherry matured whisky and chocolate.
Sherry Masterclass – £50 (1.5 hours) 4 drams
Delve into the rich history of sherry cask maturation, and discover how The GlenDronach has become renowned as the sherry cask connoisseurs since 1826.
This tutored tasting will explore the depth of character and flavour in our new make spirit and why it lends itself so well to exquisitely rich sherry maturation.
There is a gift shop and a tasting bar onsite and you can even bottle you own distillery exclusive handfill directly from two casks


Fettercairn Distillery
Sir Alexander Ramsay was one of the Scottish landowners who campaigned to license Scotch Whisky distillation. In 1824, he was one of the first to apply for a license, and the Fettercairn distillery was opened.
But despite Ramsay's campaigning for regulation, he was a canny businessman, and he recruited illegal whisky makers to be his first stillmen.
He recognised only they had the knowledge and skills he needed. So, from their very beginnings, they have been doing things a little differently in the pursuit of great whisky.
Tours
They offer simple 45 minute tours of the distillery where the knowledgeable staff will answer any questions
1 dram – £7.50
2 drams – £10
3 drams – £20
They offer a drivers pack where you can take the drams away


Knockdhu Distillery
Established in 1894 the Knockdhu distillery is the home of anCnoc, pronounced "a-nock".
Made from the springs found in the Knock estate, anCnoc are known for their light and modern whisky's.
In 2003 at the Knockdhu Distillery, production using more heavily peated malt began and it developed beautifully, creating the most remarkable malt.
Dark peaty smokiness and light subtle flavours.
A little further a field
There are many distilleries just over the Aberdeenshire border in Moray. Moray is home to Speyside, which has the highest concentration of distilleries in Scotland. Speyside is whisky heaven! By far the largest number of distilleries, and arguably the most famous of Scotland's whisky regions, this breath-taking area sits in a fertile valley of rivers and secluded glens and is home to over half of Scotland's distilleries.
You can follow the uniquely immersive experience of The Whisky Malt Trail.
As you embark along the road through malt whisky country, you'll encounter a huge variety of sites to see and things to do. You'll find globally renowned textiles mills, cosy seaside cafes, and world-class outdoor pursuits.
Spirit of Speyside (1 hour Harestone)
Visit the most northerly heritage railway in Scotland. Feast your eyes on some of the most picturesque Scottish scenery as you travel from Dufftown, the Malt Whisky Capital of the World to the halt at Drummuir in the shadow of Drummuir Castle and then on to Keith.
The trip is a railway photographer's and whisky enthusiast's dream come true and those with keen sight may see a variety of wildlife including deer, wild foul, birds of prey and other creatures.
Enjoy an afternoon tea on board and of course a wee dram!
Stay with Us & Experience these Adventures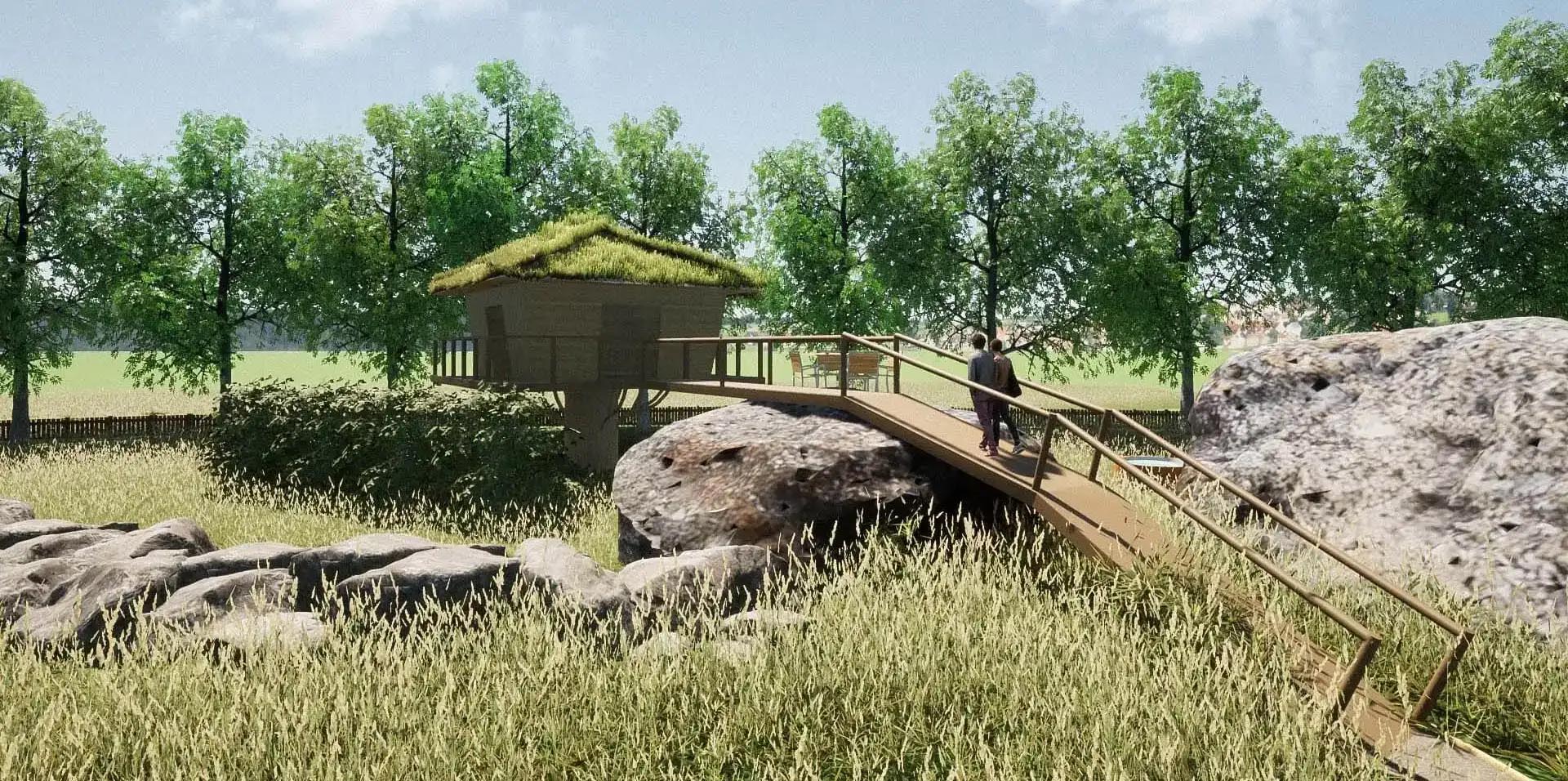 Do you want to be the first guests to stay in our boutique outdoor retreat ?
Luxury Treehouses
Converted Silo's
Grass Roofed Cabins~
Unique Underground Burrow Houses
All with hot tubs / outdoor baths & much more